[ad_1]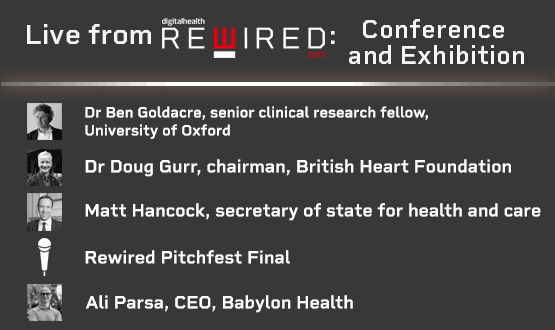 We have finally arrived at the Digital Health Rewired Conference and Exhibition.
With more than 100 speakers across eight tracks, we have a packed day ahead at Olympia London with registrations opening at 8am.
Our editorial team will be reporting live from the event all day so keep your eyes glued on the news site for stories on all the major keynotes.
Particular highlights from today include morning keynotes from Dr Ben Goldacre, senior clinical research fellow at the University of Oxford and chair of the HealthTech Advisory Board and Dr Doug Gurrr, chairman of the British Heart Foundation.
Babylon's CEO, Ali Parsa, is also due to take to the stage in the afternoon, giving his thoughts on the "AI dawn" in digital healthcare services.
Straight afterwards we have Hadley Beeman, chief technology adviser to Matt Hanock.
There are also sessions on the Local Health and Care Record Exemplars (LHCREs) how innovation culture can be nurtured across the NHS.
There will also be the Rewired Pitchfest final taking place where attendees can hear from a range of start-ups, which range from companies at pre-funding and very early stage, through to more mature digital health firms with established products now aiming to accelerate growth through securing further investment.
The heats kick off at 9.15am with the overall winner announced at 12.30pm.
As well as publishing news stories, the team will also be tweeting across the day as well.
You can follow @DHRewired and @digitalhealth2 to get all the latest news.
Attendees are also encouraged to use #DHRewired19.
Share this post if you enjoyed! 🙂
[ad_2]

Source link