[ad_1]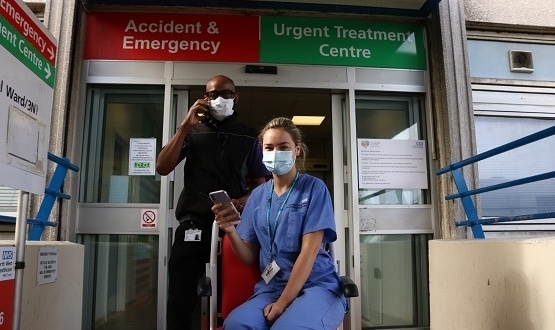 An app that allows A&E staff to contact porters via smartphone is being rolled out at Ealing Hospital after a successful launch at Northwick Park.
Staff working in Ealing's A&E department can access Infinity on their smartphone, tablet, or desktop computer.
Infinity replaces the existing practice of staff filling out a request form as well as reducing the time staff have to spend following up portering requests.
The app was introduced at Northwick Park, in October 2018, and it is hoped the same success can be replicated at Ealing.
Miriam Harris, clinical director for emergency medicine at LNWH, said: "Infinity has been a real success at our sister A&E service at Northwick Park so we're really looking forward to its introduction at Ealing.
"It's faster, more reliable and efficient than the previous system and enables porters to track tasks on their mobile phones.
"It also allows us to accurately track patient movement in and out of the department, making things a lot easier for staff as well as helping improve patient experience."
At present, Infinity co-ordinates more than 100,000 transfer requests a year as well as giving porters' instant, up-to-date information about the patient they are collecting.
The time taken to complete a request using Infinity is also six minutes faster making a saving of more than 10,000 hours.
Elliott Engers, Infinity Health's CEO, added: "We're delighted to be once again working with the London North West team to improve the efficiency of portering services.
"This project is particularly timely in the current circumstances – not only will it bring the benefits already felt elsewhere in the trust to Ealing, but we hope it will help alleviate some of the extra pressure staff are under." as they battle with the impact of coronavirus on staffing levels and patient demand."
Share this post if you enjoyed! 🙂
[ad_2]

Source link