[ad_1]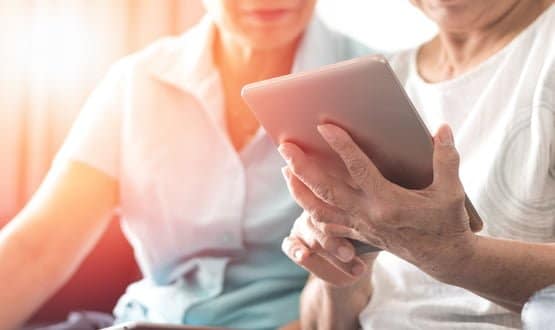 More than 3,000 elderly and vulnerable people have been connected to their families during Covid-19 via specially adapted digital tablets.
Alcove's Video Carephone allows people to easily make video and voice calls to friends, family and carers.
While the care technology supplier provided the tablet, Vodafone UK was behind the connectivity.
The tablets offered a digital alternative to face-to-face contact to help combat loneliness while also helping to deliver vital virtual care during the height of the coronavirus pandemic. The devices also provided reminders for health and wellbeing tasks, such as taking medicines at the right time, via its concierge service.
Hellen Bowey, chief executive of Alcove, said: "We are thrilled that our Video Carephone has had such a huge impact, particularly during this terrible pandemic. We hear every day how it is helping people keep connected with loved ones, access medical services and mental health support and stay fit and healthy."
The Alcove Video Carephone is being used by vulnerable people, care agencies, Covid-19 recovery facilities and hospitals following distribution by local councils in Essex, Gloucestershire, Hertfordshire, Kent, Northern Ireland, South Tyneside and Suffolk.
Helen Lamprell, general counsel and external affairs director at Vodafone UK, added: "There is a huge opportunity for technology to transform social care and we are thrilled that our connectivity is helping vulnerable people keep connected and healthy during this health crisis.
"We will continue to work with our amazing charity partners – and inspiring businesses such as Alcove – to ensure our connectivity has a positive impact on society."
Share this post if you enjoyed! 🙂
[ad_2]

Source link